Gentle Movement for Opening the Heart: Qigong with Deborah Stevenson
February 1 @ 5:00 pm

-

6:00 pm

Free
This class meets every Wednesday, 5-6 pm, from Feb. 1 – March 8, 2023
Chi is the essence of love. By practicing these slow, gentle movements, one can feel the power of love and return to the natural state. Deborah will bring the experience of opening the heart to beginners in a series of simple seated and standing qigong movements that are easy to learn.
The purpose of the practice is to open and purify the heart. Qigong promotes relaxation and stimulates circulation through the flow of chi, or life force energy. It is also good for the emotions, leading to a more balanced life. Becoming a happier person leads to a desire to care for others and the natural environment.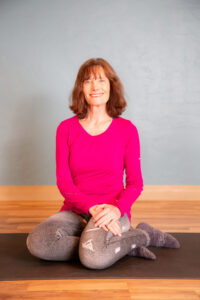 For Deborah Stevenson, art and nature, spirituality and healing go hand in hand. She earned her B.A. in Fine Arts from Adams State College in Alamosa, CO, and Masters in Anthropology from the University of Alaska, Fairbanks. Stevenson has been meditating since 1972 and has been painting and teaching in a variety of disciplines for over 50 years. She is originally from Colorado and moved to Nevada in 2004. She currently serves on the retreat committee for the Dharma Zephyr Insight Meditation Community. Deborah has been practicing energy healing through Reiki and qigong since 2000 and teaching since 2003. She currently teaches Sheng Zhen Qigong in the tradition of her teacher, Master Li Jun Feng. Sheng Zhen means unconditional love.
This one-hour weekly class is offered as a six-week series, but since drop-ins are welcome, no advanced registration is required. Participants should check with their doctor prior to be sure they are healthy enough for gentle movement. The entire practice can be done while seated if desired. Please arrive 10 minutes early to get settled. Please bring a bottle of water and a yoga mat if you have one. Chairs are available. There is no charge for these classes, but donations are always welcomed.
Contact: Deborah@dharmazephyr.org
The Dharma Zephyr Center is located within Sierra Foot and Ankle 2350 S Carson St, Suite 3, Carson City, NV (across from Greenhouse Garden Center).
In the spirit of lovingkindness and ethical behavior, Dharma Zephyr offers our updated health and covid policy: DZIMC will follow all state and local mandates regarding Covid. In addition, for the safety and wellbeing of our community, Dharma Zephyr strongly encourages, but does not require, that participants at our activities and events be vaccinated and boosted for Covid. To care for all who attend our events, we ask that if you are sick (cold, cough, sore throat, runny nose, etc.) or have had a fever, vomiting or diarrhea in the 24 hours prior to an event, that you not attend the event.