Mountain Meadow Retreat
August 27, 2022 @ 9:30 am

-

4:00 pm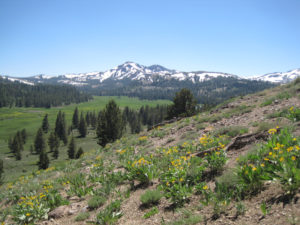 Join us for a day in our own beautiful forests and mountains. We will gather at a meeting place on the Blue Lakes Road near Hope Valley, CA, then walk to the retreat site, a meadow approximately ½ mile from the road on level terrain. Once settled in the meadow, we will spend the day in walking and  sitting meditation. Meditations will center on the "six senses:" seeing, hearing, smelling, tasting, touching, thinking; and the four elements: earth air fire and water, to help us recognize how our minds and bodies are formed and informed by the natural world. There will be a break for lunch and a dharma talk.
TEACHER: Anne Macquarie
Dharma Zephyr lay leader Anne Macquarie will be leading the day. Anne has been an active member and leader of Dharma Zephyr Insight Meditation Community for thirty years.  Having spent a lifetime in the mountains and forests, Anne's practice recently has centered on  being in the natural world and caring for it through organizing to alleviate climate change and other environmental challenges.
COST: The teachings of the Buddha are considered priceless.  Therefore they are offered freely.  You may support the teacher and Dharma Zephyr Sangha with your donation at the end of the day.
PLEASE NOTE: There is limited parking at the retreat site. Carpooling will be required for the 6 mile drive from the parking lot where the group will meet to the retreat site. Bring a mask to wear in the car.
WHAT TO BRING: You will be outside all day. Please bring your lunch and enough liquid to stay hydrated for the day. You will need something to sit on that you can carry for approximately 1/2 mile, such as a folding beach or camp chair. Please dress in layers as the temperature can fluctuate throughout the day. A sun hat and sun screen are advised. A mask will be required for carpooling to the retreat site.
REGISTRATION REQUIRED: To register, contact Susan Antipa  dzimcsusana@gmail.com
Please register before 5:00 p.m. on Friday, August 26th. You will receive additional information from Susan prior to the retreat.
COVID POLICY: DZIMC follows CDC and local guidelines.  Masks are not required outside, though social distancing is recommended.  Shared rides to the retreat site are by personal arrangement.  Each auto should decide what the rules are for the trip to Hope Valley and return.