6-Week Meditation Class Series
January 9, 2020 @ 4:00 pm

-

February 13, 2020 @ 5:30 pm
Thursdays, January 9 to February 13, 2020 at 4:00 – 5:30 pm,
Unity Church of the Sierra, Carson City, NV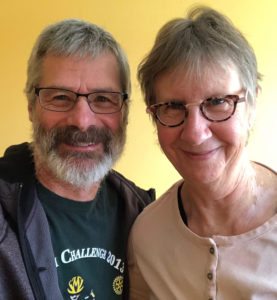 This 6-week class will introduce attendees to the practice of sitting, walking, and eating meditation, and teach participants how to bring mindfulness to everyday life. Kathy and Tom will draw on what they've learned about meditation over years of evolving practice. Beginners and experienced meditators alike are welcome. There will be ample time for Q & A to begin or refine your practice. Core Buddhist concepts will also be explored. Some classes will include mindful movement. Preregistration is encouraged.
Tom Gray brings more than 15 years of practice to this class. He comes from a scientific perspective which is both a blessing and an obstacle; the practice has helped him to address anger and self-judgement issues. Kathy Schwerin began her practice almost 30 years ago. Everyday mindfulness has been her focus; her meditation practice has changed over the years and she is eager to share the many tools that have been helpful. Both of them have a deep love of the Buddhist dharma because it works!
There is no charge; donations gratefully accepted.
For more information or to preregister, please contact Tom@dharmazephyr.org.
Here's a printable flyer: Schwerin-Gray Jan2020 flyer