A VIRTUAL RETREAT IS OFFERED to replace the gathering at Camp Galilee. Embodied Practice: Sensitive, Aware, Kind with Santikaro teaching via Zoom.
March 29, 2020 @ 9:00 am

-

April 1, 2020 @ 9:00 pm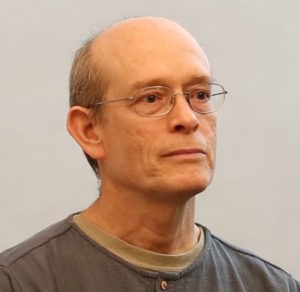 Dharma Zephyr Home/On-Line Retreat
9 a.m. March 29 – 9 p.m. April 1
Retreat Overview and Parameters
In this retreat, you will practice at home or at the home of a friend. Teaching will happen online, via Zoom. You will need to download and install the Zoom app to participate. (If you are new to Zoom, Santikaro will provide a practice session so that you can get comfortable with Zoom.) This provides opportunities to support each other during the Covid-19 pandemic and to bring our practice into the existential realities as they evolve.
The retreat's theme will adapt to the evolving Covid-19 Samsara. Here's the original description:
This retreat will explore our bodies as a field for mindful curiosity and insight. We will base ourselves in healthy posture and relaxed breathing in order to explore these bodies and Buddhist perspectives that illuminate them.
Bodies are sensate experiences, sources of pleasure and pain, jumbles of perceptions, emotional echo chambers, and fields of concocting. The focus of much of our attention and neurotic energy, our bodies are a necessary realm for mindfulness practice and insight. With understanding, we don't need to create further suffering. We can use our sensitivity to heal rather than hurt. Buddhist teachings illuminate body-mind reality and meditation practices help heal the body and our relationship with it.
We all know that beauty is skin deep, yet we are influenced profoundly by a society that perpetrates unhealthy body image expectations. As we age, the health of our bodies is a necessary and fraught focus. Unhealthy diet and stressed out work lives compound our relationships with our bodies. Through them we feel comfort and distress, pain and pleasure, sadness and gladness. Within them we can also find profound peace.
Buddhist mindfulness practices start with body and help us uncover the realities of embodied sense experience, the pleasures & pains we feel through our bodies, and the images & perceptions that filter such experiences. Through awareness our sensitivity grows and we discover kindness & compassion, as well as clarity & insight.
Buddhist teachings focus on basic realities and truths so we may orient towards the best our inner life has to offer. Teachings concerning consumption, ethics, tranquility, and inconstancy guide us in discerning what is real and what is fabricated, what is healthy and what is not. This helps us disentangle from degrading old habits.
This retreat will offer skillful means for living within our bodies more fully. Developing the first establishment of mindfulness will lead into the other three establishments (feeling tones, mind, and dhammas). Meditation exercises will explore balance, relaxation, comfort, and caring, as well as ageing and death. The wisdom teachings of Buddhism play a key role in our inquiry. They enable us to refine mindfulness, relax into deeper concentration, and awaken compassion.
HOW TO PARTICIPATE
This retreat is offered for two groups: (1) folks who commit to the full retreat format as described below and (2) those who can only participate in some activities yet commit to doing so consistently. We ask that everyone register in advance and choose your level of participation.
(1) The full-retreat group will include some who registered for the Galilee residential retreat along with others whose present circumstances allow full participation. The retreat is designed for this core group who have the ability to do full-on retreat at home. (Home can be your own, or meeting for some of the sits & on-lines at the home of sangha friends, in small groups, following safe procedures.) This core all-in group will anchor the retreat for those who participate part-time.
The current plan is 4 full days, the same days as the planned residential (without the need to travel to & from Tahoe, set up, pack, etc.). If, some of you wish to extend for another day or two, I am open to that.
We'll start with an Introduction to Format, Schedule, and Activities at 9 am on Sunday March 29 (all times Nevada) and will keep the following schedule through Wednesday evening:
7 am Practice period, starting with 15 minutes advice from Santikaro, followed by 45 Silence.
8 am Emotions Check-In, immediately after sitting (optional)
10 am Meditation teaching "Embodied Practice: Sensitive, Aware, Kind"
2 pm Meditation Q/R
7 pm Dhamma Talk
Sit at least 3 times daily, alone or with a couple friends. You set the times.
Add walking meditation, yoga, or qigong as able. As qigong fits the retreat's theme excellently, I will provide online resources for those who wish to practice.
If you wish, pick a favorite Dhamma book to read and reflect on. Limit reading periods to 15 minutes each and leave adequate time for reflection and journaling.
If possible, take Meals alone or with practice friends, and keep them simple.
Noble Silence: within the realities of your living situation, abstain from speech as much as possible, especially trivial and frivolous speech, as well as worry-perpetuating, complaining, and blaming speech. If possible, stay off the internet and don't check email. If you must use devices, create realistic guidelines for yourself to wisely limit net browsing and email activity.
You may need to make a few modifications in what I have outlined, according to your circumstances. Please stay within the spirit of retreat.
(2) DZ members are welcome to join the retreat "part-time." To do so means committing to regular daily participation, as able, e.g. the 7 am meditation, Dhamma talk, and at least one other sitting on your own. Of course, you can participate as much as you are able, but everyone should commit to a daily minimum involvement according to what works with your situation (otherwise, it won't be much of a retreat). Please make a retreat plan for yourself, whatever works with your home situation, family responsibilities, work, etc.
Santikaro's time and teaching is offered on a dāna basis. As Kevala Retreat is facing a drop in income, any help you can give is appreciated. (We recognize that some of you are in the same boat.) To offer dana to Santikaro, please use this link  Dana for Kevala Retreat  to donate to Kevala Retreat.
TO REGISTER
Please email Susan Antipa susana@dharmazephyr.org to register. Please state your intention regarding full or part-time participation. Santikaro will need your email address to invite you to the Zoom sessions.
On Thursday, March 26th, Santikaro will send an email with guidelines and suggestions for your participation.
I hope you can join us in this experiment.
Santikaro
A friend passed on this gem:
We need physical distancing not social distancing — we actually need to increase our social cooperation.