Retreat from the Holidays – January 6, 2019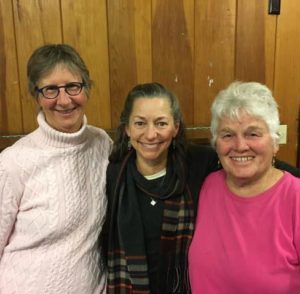 Kathy Schwerin, Christy Tews and Angela Sullivan will co-lead this day of silence, mindfulness meditation and gentle movement. They will offer techniques to use throughout the year to center, calm and ground yourself. The day will be in silence except for instruction, a dharma talk and periods for question and answer. The retreat will be especially suited for those new to meditation. Experienced meditators will benefit from a quiet day of review and renewal.
Prepare for comfort with layered clothing.
Bring a sack lunch.
If you wish to sit on the floor, bring a cushion or bench. Chairs are provided.
Christy and Kathy are long-time friends and experienced meditators who co-founded Dharma Zephyr Insight Meditation Community. Angela Sullivan has practiced yoga for 30 years and is founder of Sun Mountain Yoga in Carson City. For full biographies of Christy and Kathy, please visit Dharma Zephyr Insight Meditation Community. Angela's biography can be found at Sun Mountain Yoga.
There is no charge to attend the retreat. The generosity of your donation will go to Sierra Foot & Ankle and help support the teachers.