ReTreat from the Holidays–Generating and Sharing Merit
January 10, 2021 @ 10:00 am

-

3:30 pm
E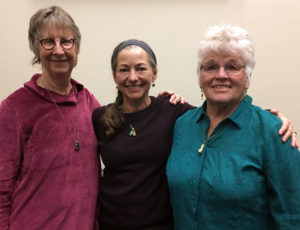 ach year Dharma Zephyr begins the new year with a reTreat from the holidays. "Treat" is capitalized in the word to remind us of the treat we are offering ourselves (and by extension, the world) by spending a day with community in meditation, movement and reflection. This year will be our first using the platform of Zoom. Christy Tews and Kathy Schwerin will be joined by Angela Sullivan who will lead us in movement. Please start your new year with us!
At the end of many retreats we do a guided lovingkindness meditation, and then end by "dedicating the merit." What is merit, anyway? Does it have anything to do with our usual practice? Why and how do we dedicate it? And to whom? In this retreat we will explore these questions and discover how this practice can enrich our daily lives.
Dharma Zephyr retreats are offered freely.  This year your opportunity to express generosity will benefit two organizations vital to our communities.  Galilee Episcopal Camp, where we do our residential retreats, (and dearly hope to again next year) has suffered from the pandemic.  And we know our neighbors have been relying heavily on the Food Bank of Northern Nevada
To donate to Galilee: Galilee or send check to: PO Box 236, Glenbrook, NV  89413
To donate to Food Bank:  FoodBank or send check to: Food Bank, 550 Italy Drive, Sparks, NV 89437
You must register to receive the Zoom invitation, even if it is at the last minute!